Next
Previous
 "I am an African and I should bear the African banner and ring her bells loud and clear over the rooftops." – Theresa Kwofi
An African flavored, no-nonsense volley of facts and cultural instruction, Mother Africa: Thou Art A Continent is a labor of love from a woman who has lived the contents of her work and identifies not only with the struggles, but also the pride and achievements of Africa. Infused with historical and geographical lessons about Africa; refutations to unfounded African stigmas and stereotypes; as well as essays on the time-honored Akan oral traditions as preserved by Kwofi's relatives and neighbors in Ghana, the text educates while engaging readers.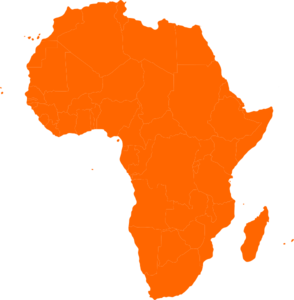 Writing, financing, and publishing this collection of essays, largely through independent means, Ms. Kwofi looks forward to suppport of this and future projects. Inviting us to come to "together, wear our intellectual spectacles so as to read and place Africa at her proper position. This land is not a tiny country, a place or a state. It is truly, a huge continent…" - Cassandra Lizaire NEW YORK BEACON
Purchase Theresa Kwofi's Books Now
A Message From Theresa Kwofi
Dear Readers,
I was born in Ghana, West Africa, on the beautiful continent of Africa.  As a very proud African woman, the author of: Mother Africa: Thou Art A Continent A Collection Of Essays and Time In Conflict: My Poetry Collections With An African Flavor, I write not to mince words. I am the 'mouthpiece' of Mother Africa. I also see and address myself as a 'walking poetry'.  I am not a politician and I am not an ordained reverend. I am not a bishop and I am not a Catholic nun either. I am simply a human being with faults, who is also endowed with creative thoughts. Since in death, we leave all our worldly knowledge behind here on earth, it is appropriate to empty myself right here and now, to let the world enjoy my writings as I live and have breath. I choose to write to provoke intelligent conversations.  I love to write to educate or to diffuse a lot of misconceptions about Africa, the continent, whose raw materials come to form a higher percentage of our world's economy. To you the visitor to my cyberspace home called: Time In Conflict, click to read some of my book reviews, be informed by buying my books and I trust that you will come back more often  to read some of my educational, informative and yet, entertaining blogs. Feel free to visit my facebook page or add me on twitter @KwofiT. Thank you for visiting and I know that you now know more about Theresa Kwofi, than you first clicked on to my site. Tell your friends about your new-found-love, Theresa Kwofi and her wonderful site: Time In Conflict.
Regards,
Theresa Kwofi